IT Systems, a key Education ICT solution and service provider in the North East of England, has successfully passed their International Organization for Standardisation (ISO) 27001:2013 re-certification for their Information Security Management System.
IT Systems passed their ISO27001:2013 certification in 2018 following an independent review, assessment and audit of their Information Security Management System (ISMS).  The recent re-certification reaffirms IT Systems development of their ISMS and endorses their activities, processes and procedures to deliver ICT solutions and services to the Education Sector.
"Our re-certification is a result of years of honing and developing excellent working practices, ethos and values for maintaining high standards of information security for ourselves which is expected of our customers.  Our customers hold some of the most sensitive data and as such we give it the attention and care that it requires from a solutions provider.
 In the last twelve months, we have watched ransomware attacks increase on a massive scale in the Education Sector.  It is our responsibility to maintain the very highest level of information security to provide the best services for our customers."
Tristen Coad, Technical Director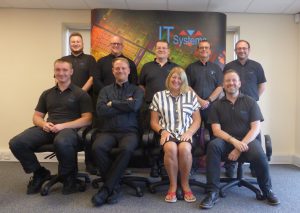 IT Systems certification was issued by the British Standards Institute (BSI), an independent, third-party auditor that confirmed IT Systems possessed the formalised IT security policies, procedures, and technical controls necessary to meet the standard upon completion of a formal audit process.
This re-certification demonstrates how IT Systems takes threats to availability, integrity, and confidentiality of both its company and customers' information and data seriously. Obtaining re-certification provides evidence of IT Systems' continued commitment to information security at every level and ensures the security of data and information is addressed, implemented, and properly controlled in all areas of the organisation.
"I am very proud of our re-certification and how all members of our team have embedded information security into every fibre of their work.  Having ISO 27001 shows that IT Systems continues to progress and perform at an international level.  IT Systems is setting the standard for its customers' expectations for security and integrity when it comes to providing secure and high quality ICT solutions in education."     
John R Agar, Managing Director
IT Systems & Support Limited provides bespoke and all-encompassing IT solutions exclusively for educational establishments.  Our services include embedded on-site and off-site technical support, cloud platform solutions, GDPR and Data Protection Officer services, network and data security services, installation and commissioning, broadband, SIMS support, as well as IT consultancy.
At the very core of everything we do is the drive to provide a highly responsive and personalised service to our partners, ensuring outstanding, happy and issue free IT to be embedded across the school allowing teachers to teach and children to reach their learning potential.
https://www.thenorthernecho.co.uk/news/19610841.top-marks-darlington-data-experts/